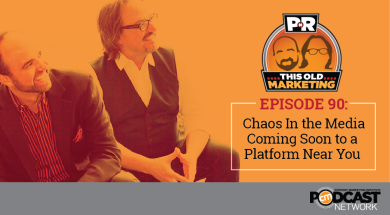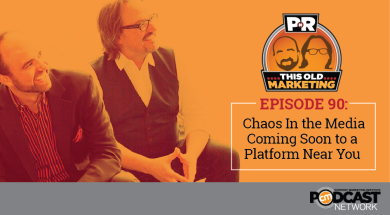 PNR: This Old Marketing with Joe Pulizzi and Robert Rose can be found on both iTunes and Stitcher.
In this week's episode, Robert and I discuss the ridiculous way that HubSpot handled a recent scandal with a "tell-all†news release. Next, we ponder the chaotic world of media companies and why they will start to act more like wire services. We disagree with a columnist who believes podcast sponsorship blurs the line between journalism and advertising and give a hearty two thumbs way up to the growing trend of large companies funding documentary films. Rants and raves include the social media mob mentality surrounding the death of Cecil the lion and why YouTube's top stars aren't making as much money as you think. We wrap up the show with a #ThisOldMarketing example of the week from American Bee Journal.
This week's show
(Recorded live August 3, 2015; Length: 1:02:02)
Download this week's PNR This Old Marketing podcast.
If you enjoy our PNR podcasts, we would love if you would rate it, or post a review, on iTunes. Missed a previous episode? Go to the main This Old Marketing page for a full list of archives.
The post This Week in Content Marketing: Chaos in the Media Coming Soon to a Platform Near You appeared first on Content Marketing Institute.
via This Week in Content Marketing: Chaos in the Media Coming Soon to a Platform Near You
Read whole of article by clicking on Content Marketing Institute